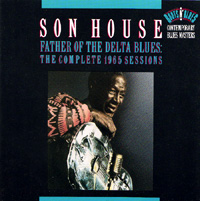 Son House: Father Of The Delta Blues: The Complete 1965 Sessions / Columbia Records, 1965 / 2LP/CD Set / Producer: John Hammond / Alan Wilson on Second Guitar and Harmonica
Alan Wilson was instrumental in the rediscovery of Son House in 1964, giving him lessons on "How to play slide guitar like Son House" after a 28-year musical absence. Years of alcoholism had dulled House's memory, so at the request of John Hammond Sr., 22- year old Alan sat next to his friend in the studio during the recording of the 1965 Columbia sessions. They spoke candidly, conferring with one another on which song to play, adding his harmonica and second guitar when needed to center the Delta Blues' Grandfather. House seemed to relax and become more comfortable and centered when speaking to Wilson. Their stunning interplay on "Empire State Express" and "Levee Camp Moan" shows the depth of understanding and friendship between the two legendary musicians.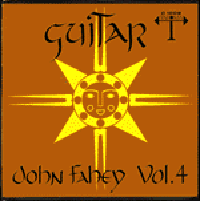 John Fahey: Guitar Vol.4: The Great San Bernadino Birthday Party / Takoma Records, 1966 / 200g Vinyl & CD Reissue Available / "The Mysterious Al Wilson" on Veena
Existential guitarist and then-owner/founder of Takoma Records, John Fahey's compilation from 1966 includes "Sail Away Ladies," a twelve minute track featuring "The Mysterious Al Wilson" playing Veena (which is an Indian stringed instrument that Alan studied while at UCLA). This is perhaps the only recording of Wilson's interpretation of the eastern instrument. Alternating between ragas and experimentation, "Sail Away Ladies" gives foreshadowing insight on what influenced Wilson to choose the Tambura for the background of "On The Road Again". Fahey also had the foresight to use the best-quality vinyl available on his releases, which is why many original copies have survived.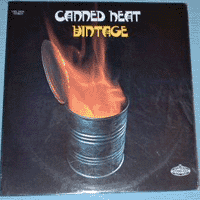 Canned Heat: Vintage Heat / Janus Records, 1966 / CD & LP Reissue Available / Produced by Johnny Otis / Alan Wilson on Harmonica
The original Canned Heat recording featuring Stuart Brotman on bass and Frank Cook on drums, Vintage Heat consisted entirely of blues covers including Robert Johnson's "Rolling & Tumbling" Elmore James' "Dust My Broom", Muddy Waters' "Got My Mojo Working", John Lee Hooker's "Dimples" and Howlin' Wolf "Evil Is Going On". Bootlegged, bundled, and repackaged countless times under such names as "Eternal Boogie", "Don't Forget To Boogie", and "Canned Heat In Concert". Alan's crisp harmonica is a fresh breather for blues enthusiasts, and Bob Hite's grasp of "Shouting The Blues" is a sure-to-please first effort. This is what sets Canned Heat apart from the rest: The group was founded by obsessively dedicated musicologists. Originally surfaced in 1970.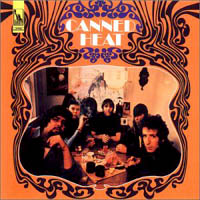 Canned Heat : Canned Heat / Liberty Records, 1967/ Mono/Stereo LP / Alan On Harmonica, Bottleneck, Vocals, Piano
Canned Heat's stunning Summer-Of-Love Debut shortly after the Monterey Pop Festival 1967. The cover started controversy, as it features the band "drinking" censored cans of Sterno cooking fuel (If you look closely on the picture provided, the product was "blacked-out"). Alan's rendition harp playing on "Rich Woman" and Sonny Boy Williamson tune "Help Me" and are his shining points. The record was done entirely of Blues covers and re-arrangements, and was hailed by the period critics and blues purists. This record was meant to introduce people to the Chicago/Delta blues, with original arrangements and takes on traditional tunes. Featuring Frank Cook on drums, the album is currently out of print in the US, but released in Europe on the Magic Records label. The 24-bit mastering is quite nice, too on the Magic release. .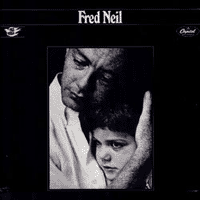 Fred Neil : Fred Neil / Capitol Records 1967, Collectors Choice CCM-07-2 1998 CD Reissue, Rev-Ola: CREV-021 1993 CD Reissue/ Mono LP / Stereo LP / CD / Alan On Harmonica
His second album, Fred Neil features Alan on Harmonica through the course of the studio project. Neil's deep voice and folk-bluesy feel made this record an obscure cult classic, and the lack of CD reissues of any material until 2001 (shortly after his death of cancer, consequently) make it that much harder to find. Vinyl copies are easier to find. Neil released his last live album in 1971, and continued to play only for friends and close relatives until his death. The staff is still trying to locate a copy of this album on CD.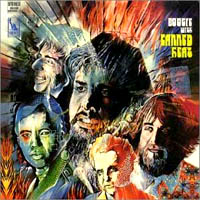 Canned Heat : Boogie With Canned Heat / Liberty Records, 1968 Mono/Stereo LP Produced By Skip Taylor / Alan Wilson on Harp, Bottleneck, Vocals, Tambura
Soul is an element essential to boogie music, and when you have a 300 pound mountain belting the blues over a band completely in the pocket, you get the boogie. "Boogie With Canned Heat" catapulted Canned Heat to national prominence, Alan shining on the hit single "On The Road Again," while "My Crime" details the group's set-up by the Denver police in 1967. This Record also marks the entrance of drummer Fito De La Parra, who was left out of the cover art but properly credited on the back of the album. Blues piano legend Sunnyland Slim even sits in on "Turpentine Moan" for a truly authentic barrelhouse feel. Odds are, you've been hammered on a couch somewhere and heard this entire album, and your "uncool" dad has worn out 2 LP copies.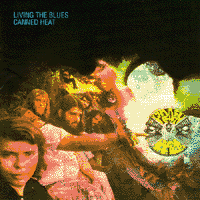 Canned Heat : Living The Blues / Liberty Records, 1968 Mono & Stereo LP's / Produced By Skip Taylor Vinyl/CD Reissue Akarma Records, 2003 / Alan Wilson on Harmonica, Bottleneck, Vocals, Flute
The mammoth Double-LP featuring the first release of "Going Up The Country", The experimental "Parthenogenesis", and the 42-minute "Refried Boogie". Alan finally got a chance to record "Pony Blues," a track he sat in on with Son House in 1965. Arguably this record was the most influential release of Canned Heat's career on the pop charts. It is experimental and volatile in nature; taking Charley Patton and Floyd Jones tunes and transmogrifying them with LSD; updating the sound for a hipper, younger audience. "Sandy's Blues" is probably the most relevant and concisely recorded shuffle of The Summer Of Love generation, and "One Kind Favor" will show you who helped pioneer the headbang. (Thank you for your buzzing, Mr. Vestine) A 10-point masterpiece from front to back.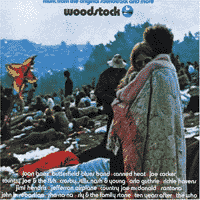 Woodstock: / Warner Brothers Records, 1969/ Mono & Stereo LP / Alan Wilson on Harmonica, Bottleneck, Vocals, Whistling
"Going Up The Country" will forever remain the theme song for Woodstock. In a seemingly emotionless state, Alan Wilson immortalized the tune during the festival, and became the forgotten voice for a generation. Half a million people migrated to Max Yasgur's Farm for "The Aquarian Exposition" held August 15-17, 1969. The Canned Heat was the most popular band in the USA at that time, and played the "Woodstock Boogie" blowing the minds of the waiting fans. "A Change Is Gonna Come" was part of the set list as well, and the 35th anniversary edition of the recording has a more complete Canned Heat performance. More Soon!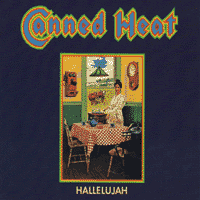 Canned Heat : Hallelujah / Liberty Records, 1969/ Mono & Stereo LP / Produced By Skip Taylor / Alan Wilson on Harmonica, Bottleneck, Vocals, Whistling
The last album to feature the "Golden Age" lineup, Hallelujah ranks in originality with the 50's Chess Blues Recordings, and was never truly understood for its genius. Featuring "Do Not Enter": a 5/4 blues tune that challenged conventional rhythmic standards, Canned Heat took the blues into a completely new direction. With the innovation of breaking this tried-an- true structure, the group transcended the threshold that they themselves created. Featuring a poem by Henry Vestine in the fold-out cover. An odd-measure blues verse is good for punch; no one commercially had really heard anything like this record before. This coincided with the Woodstock release.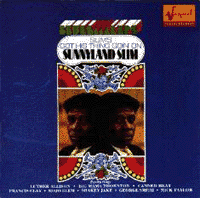 Sunnyland Slim : Slim's Got His Thing Going On / World Pacific Records - Bluesmakers 1969/ Mono & Stereo LP / Alan Wilson on guitar, harmonica (2 unreleased tracks)
Albert Luandrew (aka Sunnyland Slim) was stumbled upon by Bob Hite, Alan Wilson and Fito de la Parra when they climbed into his Chicago Cab in 1968. Immediately recognizing his name and five-year musical absence, the musicologists helped Sunnyland revitalize his blues career starting with this release. Alan played on two tracks, which were unreleased on the album. Originally, the unreleased tracks were to be put out in a compilation of tunes to commemorate Alan's life called "Human Condition", but this was a working title in 1971. There is a CD reissue available on Vequel, which is currently out of print. The other album in the Bluesmakers series was gambler & Mississippi Saxophonist Shakey Jake's "Further On Up The Road", both albums featuring young Luther Allison on guitar.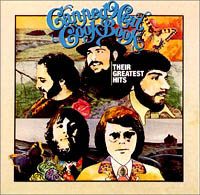 Canned Heat : Cookbook: Their Greatest Hits / Fuel 2000 Records Reissue 2003 / Produced By Skip Taylor / Alan Wilson on Harmonica, Bottleneck, Vocals, Flute, Tambura
Canned Heat's Greatest Hit's album was originally released by Liberty Records in 1969 to compile the hits from their first four albums. It was effectively a cash-in attempt by Liberty with the intention of keeping the band in the charts, and quickly became The Cookbook has been released in CD format on Fuel 2000 Records in the USA, and features the bonus track "Let's Work Together." The CD is available from Canned Heat's website, and contains the best from the Golden Age Lineup. Including "Going Up The Country", "On The Road Again" , "Boogie Music" , "Time Was" and "Let's Work Together"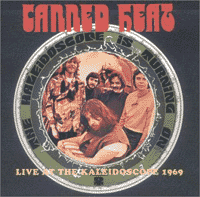 Canned Heat : Live At The Kaleidoscope, 1969 / Varese Sarabande # 302 066 178 2 Originally Released as Live at Topanga Corral , Wand Records, 1971/ Mono & Stereo LP/ Produced By Skip Taylor / Alan Wilson on Harmonica, Bottleneck
One of the clearest recordings of Alan playing the harmonica is featured on this record: "I'd Rather Be The Devil" features his clean tone, standing right next to the mic, and projects calmly to the audience. Skip Taylor's foresight in bringing the most state of the art equipment to the now-defunct SoCal club can be thanked in part for this one. "Wish You Would" is brought to life courtesy of Larry "Mole" Taylor, and Bob "The Bear" Hite belts "Sweet Sixteen" with the full force of his 300lb soul. "Kaleidoscope" also features Alan's bottleneck open-tuning work, as he waxes Bo Diddley on his 1956 Les Paul Goldtop. The record has been bootlegged and repackaged over a dozen times, and is currently in print on Varese Sarabande.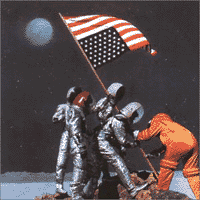 Canned Heat : Future Blues / Liberty Records, 1970 / Stereo LP, CD Re-Issue / Produced By Skip Taylor / Alan Wilson on Harmonica, Bottleneck
This album cover was definitely a first in the record buisness for its political statement. Alan's last studio recording with Canned Heat, featuring Harvey "The Snake" Mandel on guitar, and returning studio player Dr. John on keys. Regarded as an Avant-Garde masterpiece in Europe, the album clocks in at just 36 minutes. The haunting "My Time Ain't Long" casts an eerie foreshadowing on the events to come; Alan would be gone a few months after its release. The center album photo and poem Grim Harvest voiced the band's deep concern for the deforestation of the California Redwoods.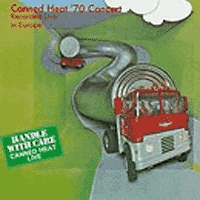 Canned Heat : Live '70 Concert in Europe / Liberty Records, 1970 / Stereo LP / Produced By Skip Taylor / Alan Wilson on Harmonica, Vocals, Bottleneck
The live concert from the European Tour right before Alan Wilson's death. Bob Hite grabs the audience with his charismatic personality, and by the end of the first verse in "Bring It On Home" the band has captivated the crowd in a head--bobbing boogie. Live '70 Concert features a heart-stopping rendition of "Pulling Hair Blues"; yet another attribution to how Alan's unconventional style challenged the fabric of music by incorporating prosaic verse, letting his voice crack, and flowing between his harmonica. Miles above the other performers of his time period, this record says again that Alan wanted to tear down walls of the conventional 12-bar format. The CD is currently out of print in the United States, but available in Europe, and through the band's website.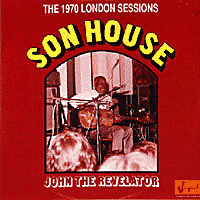 Son House : John The Revelator: The 1970 London Sessions : Sequel Records, 1970 Stereo LP and CD both OOP / Alan Wilson on Harmonica, Bottleneck

AKA Delta Blues & Spirituals; this album was re-released in 1994 with a different cover. Alan Wilson and Delta Dave Kelly sit in with Son for a truly amazing performance. It was House, (and ironically Wilson's as well) last appearance in Europe and the two played like they ha known each other forever. A truly astounding performance vocally by House, and Wilson's harp banshee wails an ethereal future blues; one that we perhaps will appreciate for generations to come.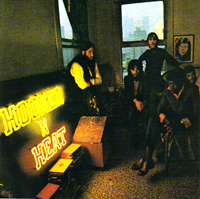 Canned Heat & John Lee Hooker: Hooker & Heat / Liberty Records, 1971 / LP Set OOP / MOFI 2 CD Set #UDCD 2-676 OOP/ Produced By Bob Hite
Fulfilling his lifelong dream, Alan records with John Lee Hooker on what will be his last session. During the photo shoot for the cover, Alan was already gone. Guitarist Henry Vestine grabbed the picture on his left before the photographer captured the already somber mood. Wilson shines forth in what is arguably his best recording, following the unconventional Hooker like none other on the harmonica. "I dig this kid's hamonica, you know? I don't know how he follow me, but he do." (to Alan) "You must've listened to my records all your life, since you was a little kid. I cant lose you." In his last Rolling Stone interview when asked who played his music the best, Hooker said "The Canned Heat" without missing a beat. "We did the boogie and we rode it like a pony, we really did."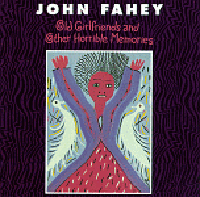 John Fahey: Old Girlfriends and Other Horrible Memories /Takoma Records 1992 CD Available / Alan Wilson On Harmonica
"Fear and Loathing at 4th and Butternut" is the only track on this record featuring Alan Wilson. Info at Johnfahey.com suggests this is an outtake or another version of "Raga Kafi" from the track "Parthenogenesis" in 1969, and doesn't feature John Fahey at all. Some have said that the track was released because Fahey was never properly credited for playing the first five guitar chords in "Parthenogenesis". Fahey is known sometimes in blues circles for his alter-ego "Blind Joe Death" on account of a 1959 record he released in a limited run of 95 copies. Originally responsible for taking "Blind Owl" Wilson to the West Coast the first time, Fahey was an avid student of the Piedmont Blues, and played a large role in the re-discovery of Bukka White, Son House and Skip James.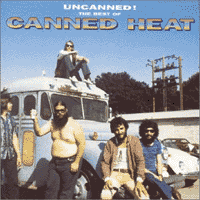 Canned Heat: Uncanned! / EMI Records 1994/ 2CD Set OOP / Alan Wilson on Harmonica, Vocals, Bottleneck, Piano, Flute, Tambura
Shining forth are the alternate release of "On The Road Again" which is incredibly different and stripped down, though as painstakingly brilliant as the original. "Mean Old World" "Fannie May" "Nine Below Zero" and "TV Mama" highlight the previously unreleased tracks on the first disc. Alan's harp playing is simply unparalleled as far as technique, vibratto and control on these songs. "Human Condition," and an incredibly lonely version of "Terraplane Blues" highlights the second disc, and show off his deep understanding of the bottleneck. Terraplane Blues is after all a Robert Johnson tune. For the Audiophiles, the booklet also includes the dates the tracks were recorded. The record is out of print, but can be obtained through the band at cannedheatmusic.com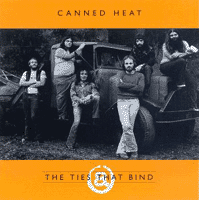 Canned Heat:The Ties That Bind / Archive Records, 1997 CD Release, OOP / Bob Hite on Vocals & Harmonica
The previously unreleased Atlantic Records session from 1974. Negotiated out of their UA contract, they went to Atlantic where notable blues enthusiasts the Ertegun Brothers were persuaded to give the band another chance. The tapes were released back to the band after the label lost interest due to the impending disco craze, and the infamous Lester Bang's eloquent thrashing of "The New Age." LP. Fito put the album out in 1997. An excellent boogie-blues record in a time that didn't understand the music, the two unreleased Alan Wilson Tracks (Get Off My Back, Somethings Gotta Go) also appear on The Boogie House Tapes Vol. 2. and are a studio and live track that were some of his last recordings. No word on a re-issue as of yet, but you can purchase the record from the band directly.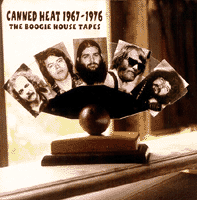 Canned Heat:The Boogie House Tapes Vol.1 / Fuel 2000 / Ruf Records 2 CD Set / Produced By Fito de la Parra & Walter "Dr. Boogie" Paduwa
A series of live and unreleased recordings spanning the early years of Canned Heat. From the vaults of Fito de la Parra and Dr. Boogie, there are live versions and alternate takes that really shows how deeply the group understands the different types and nuances of blues and roots music. The live versions of "Pulling Hair Blues" and "London Blues" really show off Alan's wailing harmonica, his voice cracking and flowing up and down through the registers over the slapping of Larry Taylor's bass. "Human Condition" is another highlight, and features Alan singing the track live in Europe in 1970. Bob "The Bear" Hite notoriously sets the tone for the evening from the beginning, and brings you right into the concert.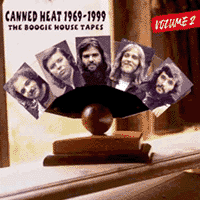 Canned Heat:The Boogie House Tapes Vol.2 / Fuel 2000 / Ruf Records 2 CD Set / Produced By Fito de la Parra & Walter "Dr. Boogie" Paduwa
Featuring the last four bottleneck slide recordings from Alan "Blind Owl" Wilson's hospital bed following a suicide attempt in 1970, Disc One of the Boogie House Tapes Vol. 2 gives listeners a final insight into the tortured genius who re-taught delta blues grandfather Son House how to play guitar like Son House. Wilson's ghostly high vocal intonations and perfect vibrato on "Sloppy Drunk" and "Death Bed Blues" are literally frightening to listen to, while "Blind Melon" illustrates his complete mastery of open tunings. The record also features the last roadhouse recording of the mountainous blues shouter and bandleader Bob "The Bear" Hite bellowing "Hell's On Down The Line" in 1981, days before he collapsed on stage and died of a drug-related heart attack.