Down Beat Volume 35 Issue #12, Published 6/13/1968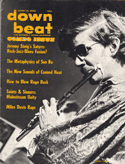 "Look Back To The Future" Interview with Alan "Blind Owl" Wilson in regards to Blues history and the "New" Canned Heat sound by Pete Welding. Click the cover for the verbatim transcript.
Alan is interviewed by Pete Welding about Canned Heat's roots, the sound of the band and its evolution, modal vs. ensemble Blues, the industry, the types of gigs and venues they played, types of fan characteristics, and Blues in relation to the record-buying public.
This story is © Down Beat Magazine, and/or Pete Welding, 1968-2008